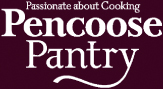 Fork and finger buffets
If you like the idea of your guests coming to help themselves and seeing a feast laid out before them, then Pencoose Pantry can provide wonderful fresh food.
Our menus are ideal for private and corporate lunches. We have catered for many local business events such as a meeting for a Diabetic Research team at the Knowledge Spa, South West Water training days, the opening of the new building at Truro Health Park and the celebration for the Willow Centre opened by HRH The Princess Royal.
Depending on numbers, we can also adapt these menus for a private party and provide you with a delicious fork or finger buffet for anything from a christening, a funeral, to a 50th birthday party lunch.
We make a point of providing all of our food on white china dishes and all the food is cooked fresh that day as we take pride in our food and presentation.
All of the menus listed below would work for "delivery" only which means that we will provide the food and the china serving platters with collecttion later, as arranged. However, we can also provide waitress service as you may like to have drinks served too - for which we charge no corkage!
Please do contcat us with your requirements and we can give you a quote.
Menu A
Menu B
Menu C
Menu D
Other ideas available on request for all types of buffets and alternative food choices.

Copyright 2010 © Pencoose Pantry