News
Christmas 2021
Christmas puddings - we are now taking orders. Or how about a sticky toffee pudding as a tasty alternative, or as an extra? See our Christmas 2021 section.
Added on: Date goes here
Summer Menus
We're getting organised for the busy season ahead and have posted our summer delivery and dinner party menus - why not have a look ...... we'd love to cook for you.
24May21
Easter / Spring 2021 - new Delivery Menu just released
Check out our exciting new Easter/Spring delivery menu - new inspiring dishes prepared freshly for you by William (as always). Select the 'menu' tab above.
26March21
Mother's Day - 2021
Treat your mother this Mother's Day with a special meal freshly prepared by William and delivered to her door. Select the menu tab above to view our menu.
1March2021
Valentine's Day - 2021
Looking to spoil your partner this Valentine's Day - what better way could there be than to order a special home cooked meal, delivered to your door for you to heat and serve. With the added option of a bottle of bubbly and homemade chocolates to help you celebrate. Select the menu tab above to check out our Valentine's menu.
January 2021
Covid-19 Update Jan 2021
Although we sadly have had to temporarily stop our 'Private Chef' service where William comes to your house to cook for you and your guests, we are still happy to take bookings for when restrictions are lifted. In the meantime we are still offering our delivery service, with our current menus on this website. Again we are continuing to take bookings for future weddings.
January 2021
Christmas 2020
Check out our special Christmas Party and Delivery Menus - all updated on our website
Added on: 12/12/20
Rule of 6

Just because we all now find ourselves restricted to the 'rule of 6' doesn't mean you can't still enjoy William's delicious food.... we are happy to be flexible and offer a service that fits you personally, wether you would like William to cook and deliver dishes to fill your freezer; a vitual/distanced dinner party with friends/family or neighbours; or whether you would like a real treat and for William to come and cook for you in your house - check out our menus .........
For more bespoke events we would love to hear from you and we'd be very happy to provide a quote.
Added on: 1 Oct 2020
Item title goes here
Text goes here...
Added on: Date goes here
A Fuller Service is Resuming!!
As COVID-19 guidelines are continued to be eased William is now once again able to offer his private chef/dining service. Some small changes have had to be made and we are happy to discuss this with each client. Alongside this we are looking forward to our weddings (although certainly for the time being on a much smaller scale) as well as continuing with ever popular our delivery service.
Added on: 28 July 2020
WELCOME BACK - DINNER PARTY SERVICE
Now lockdown has eased slightly we are happy to announce that William is once again offering a Dinner Party Service. Please refer to our current menus.
Added on: 8 July 2020
COVID-19
To give our clients peace of mind and to safeguard both our clients and staff we have updated our working practices in line with government guidelines. Please contact us for details of our current practices.
Added on: 4 July 2020
Delivery Food - during lockdown
During Coronavirus lockdown we are offering a special menu - with delivery service. Menus as shown on our website.
Unfortunately we are temporarily stopping our Dinner Party service, but hope to resume again soon.
Added on: March 2020
CHRISTMAS 2018 - 'Feast Wild
Tickets selling fast - don't miss out!  https://wildtipi.co.uk/feast/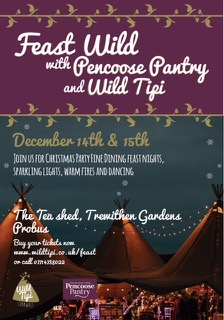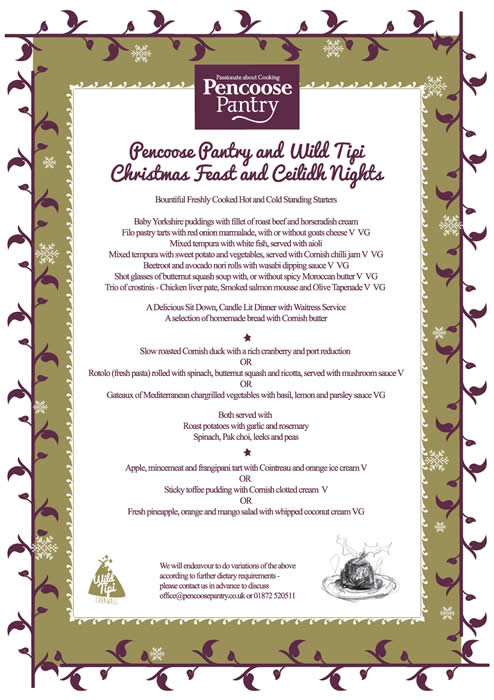 Christmas 2017 - 12 Tipi Nights of Christmas

Come and see us Cardinahm Woods where we are going to be cooking for the 12 Tipi Nights of Christmas. Choose between our Fine Dining Feast Night, Big Pan Feast NIght or Family Christmas Ceilidh Night. www.wildtipi.co.uk/feast.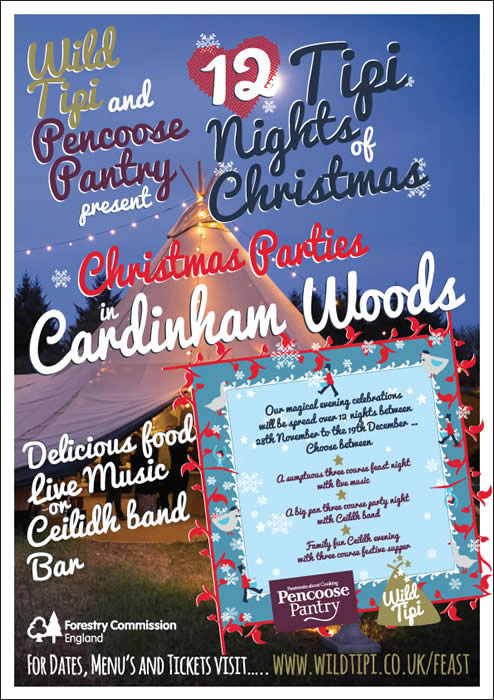 6/10/17
July 2017 - Wild Tipi Feast NIght at Camills Farm
Wow this is our first collaboration with Wild Tipi - so looking forward to it
Added on:July 2017
Weddings 2016
We are getting excited here at Pencoose as we look forward to our first wedding of the season at The Vean, the beautiful country house in the grounds of Caerhays Castle. We are making an array of mouth watering cakes for a vintage afternoon tea and the guests are being treated to William's celebrated crepes in the evening.
We are also heading off to Prussia Cove, Constantine Bay, Mawgan Porth, St Mawes, Mevagissy and Boconnoc this year to cook all sorts of delicious things for our 2016 brides and grooms.
27th April 2016
2012 - Easter is almost here
Are you having visitors this Easter... don't forget we are here to help. Have a look at our our delivery menus or give us a shout if you would like a dinner party in your home. The asaragus season is near so we are all very excited about that at Pencoose. It grows in our neighbouring valley so we look forward to feasting on our chicken's soft boiled eggs with apsaragus spears for dipping, chargrilled with bacon or in Wiliam's asparagus and Hollandiasie mouth watering tarts....
Added on: 30/3/12
NEW KITCHEN
For those of you who have visited us at Pencoose, you will know how wonderful the announcement of a new kitchen is for us! While our existing kitchen was great for cooking, it was turning into a bit of a squeeze with our growing family and their sense of ownership of this important room! (say no more..) So William now has a lovely stainless steel set up with equally good smells exuding from it to taunt our neighbours!
Added on: 30/3/12
Pencoose Bee News
This summer we have had 45lb's of honey! We are thrilled and are now doing a bee keeping course to learn more with Cornwall Bee Keeping Association. Picture of our youngest bee keepers...
Added on: 10/07/10
July issue of Cornwall Today
We had a lovely article published in the July Issue of Cornwall Today where we were chosen as their Food Heros!
Added on: 21/05/2010
Item title goes here
Text goes here...
Added on: Date goes here